Christine Winge - Executive Director
Christine is passionate about connecting our community via free speech, public access, government visibility, and education. A longtime Monterey Peninsula resident, Christine attended Stevenson School; UC Berkeley; and Santa Clara University graduating with a Master's Degree in Counseling Psychology. When not advocating for transparency and sustainability, you can find her drinking coffee, coaching field hockey, hanging out in the Carmel Valley river, or looking at cute pictures of cats on Instagram.
Erik Gandolfi - Station Manager
Our Station Manager, Erik Gandolfi, is no stranger to Monterey. He's been a Production Manager for KOTR, the Video Producer for the Naval Post Graduate School, and has operated his own media production company for many years. Erik is energized by the collaborative process involved in leading our highly creative and motivated team of producers, staff, camera operators, editors, animators, and engineers. Erik strongly believes in the importance and relevance of community television because, as AMP's Mission Statement states: We help everyone!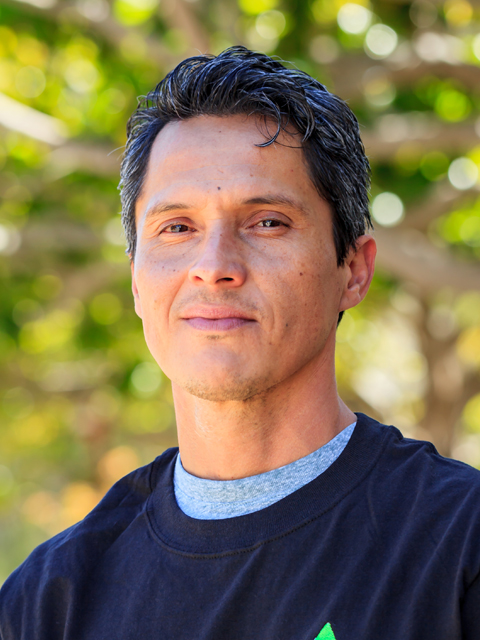 Mario Romo - Training & Equipment Manager
Lindsay Nelson - Admin Services Manager
A Santa Cruz local and UC Santa Cruz graduate, Lindsay now resides and works in Monterey. She handles all the administrative tasks at Amp Media. She's the go-to-girl for anything and everything - whether that's invoicing customers or ordering pizza for office parties. Lindsay's background in news media includes a stint at a newspaper publishing company, which prepared her for the world of local community media. When she's not working hard at the office, she loves spending her free time online shopping and decorating her place in Monterey.
David Cardoza - Production Technician
David is a California native with a Rhode Island accent. Go figure! David started his career at AMP Media as a volunteer and worked his way up to Production Technician. When asked what he does here, David jokingly responds "nothing" when, in fact, he produces many city meeting videos and films local events. David enjoys working on computers, watching silent movies, and baking pastries. That's a whole lot of something!
Jules Hart - Production Technician/Documentarian
Award-winning filmmaker and documentarian, Jules Hart, helps in a variety of ways at AMP Media. A Jill (or should we say, JULES!) of All Trades, she works on everything from shooting video to editing, to teaching classes about film-making. Jules is frequently spotted rocking her favorite color (purple) and taking care of her darling rescue dog, Isabella.